With greater awareness, some NFL players are walking away from the game in hopes of better preserving their long-term health. Former linebackers Chris Borland (San francisco 49ers) and A.J. Tarpley (Buffalo Bills) recently retired due to concussion concerns after just one NFL season. Indeed, it appears that increasingly, football players and the leagues they play in are being forced to face the consequences of concussions.
John Urschel is 14th player to retire at age 30 or younger this offseason. Twenty players retired at 30 or younger during 2016 offseason.

— Adam Schefter (@AdamSchefter) July 27, 2017
The issue has understandably been on the NFL's radar for some time now, and in 2012 they  pledged $30 million to the National Institutes of Health (NIH) for research on brain injuries. The only catch? The NFL held control over how its money was to be spent and maintained a veto over specific allocations. This in fact, came to pass in 2015 as the NFL refused to fund a study by Dr. Robert Stern (Boston University) that sought to diagnose Chronic traumatic encephalopathy (CTE) in living patients.
Ultimately, the NIH funded the study themselves, but controversy and suspicion between the two organizations remained.
In 2016, a scathing Congressional report directly  questioned the NFL's role in making funding decisions for NIH research projects (Fig. 1).
Soon afterwards, the NFL announced The Play Smart Play Safe initiative, which would fund $100 million for engineering and medical research.
In spite of the funding controversy, Boston University researchers including Dr. Stern published results from their latest CTE study. The results were dramatic. In a convenience sample of 202 deceased former football players who donated their brains for research, CTE was diagnosed in professional and college players at alarming rates. For former NFL players, 99% were diagnosed with CTE (Fig. 2). It is important to note that these were players that volunteered for the study and results do not suggest that 99% of all NFL players have CTE. Still, the results were remarkable.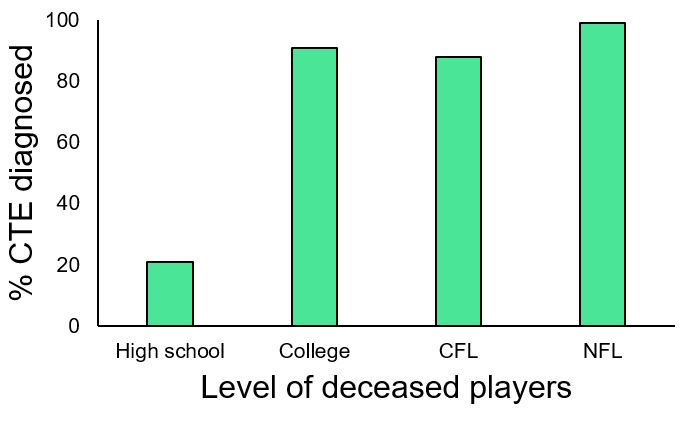 The impacts of the study were immediate. Three days after the study was published, Baltimore Ravens offensive lineman John Urschel abruptly retired at the age of 26. Urschel spent his off-season working towards a PhD in math at M.I.T. and decided to protect his future quantitative skills. Two months after the study, the Canadian Football League (CFL), banned all padded practices effective immediately (middle of the regular season) to reduce risk of injury.
By the end of August, 2017, the NFL let its association with the NIH lapse with $16 million left unspent (the original cost of the Boston university study). The NFL is funding research through its own foundation, with a focus on improving helmet technology. It remains unclear if any money will support study of CTE.
VIDEO: Denver Broncos receiver Bennie Fowler with scary concussion in recent game against the Dallas Cowboys.
Comments
comments